HEBDEN BRIDGE WALKERS ACTION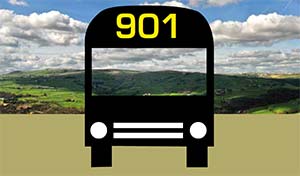 901 BUS WALKS 12
Stainland to Sowood
Main features of the walk
This walk is in a rarely walked part of the area, you may see deer, you will get some great views and you are only a stones throw from Huddersfield.
Length and time
It's about 3km (approx 2 miles) and should take you about 1 hour (plus stops). You may want to join this walk with the one from Barkisland to Stainland making a total of 8km (5 miles)
Gradients – how strenuous?
Most of the walk is flat or gently down hill, with about 1km uphill at the end
Terrain – how uneven?
The first half of the walk is on farm a good track, the remainder is on good footpaths
Obstacles – stiles, steps etc.
There are a couple of gates and a stile.
Facilities on the walk
There are three pubs at the start and the New Inn at Sowood at the end
What to take?
You need a pair of boots or reasonable walking shoes with 'grippy' soles as parts of the route will be muddy, especially after rain.
DIRECTIONS
Take the 901 bus from Hope Street in Hebden Bridge.
Ask the driver to put you off at the stop for Stainland (near the school)
Walk past the school keeping it on your right. At the junction turn right along Bowling Green road and at the next junction turn left on to Stainland Road.
After 700 metres, just before the church, fork right on a track called Carr Hall Lane. Follow this bridleway for 750 metres, and just after Castle Farm (fenced with security cameras), turn right through a tall metal gate on to a footpath.
Cross a stream and follow the footpath up hill and at a fallen tree walk into the woods heading diagonally uphill towards another tall metal gate. Follow the path ahead and drop down, crossing the stream and a stile.
Follow the path to the left, going uphill to some steps to the right of a wall. Continue on the path following the wall to a metal gate and just after it bends sharply to the left it arrives at a junction where you turn right on to a track. After 300 metres the track joins New Road at Sowood.
Turn right on the road and the 901 bus stops are close by or you can cross the road and head straight uphill on a grassy path that leads you to Forest Hill Road. The New Inn is to the just to the left.
Check the bus times to get a return bus.