HEBDEN BRIDGE WALKERS ACTION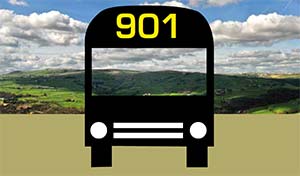 901 BUS WALKS 4
White House to Hebden Bridge along the Pennine Way
Main features of the walk
This high level walk on good paths gives wonderful views over Rochdale, Oldham and Manchester. You also pass one of the Stanza stones and Stoodley Pike.
Length and time
It's about 15km (approx 9 miles) and should take you about 4½ hours (plus stops).
Gradients – how strenuous?
This walk is pretty flat until the end, when you drop down to Hebden Bridge.
Terrain – how uneven?
Most of this walk is on good tracks, with some sections on flagstones and some on well defined but uneven paths.
Obstacles – stiles, steps etc.
There are a few gates.
Facilities on the walk
This walk has no facilities en route, just a pub at the start and loads of places to eat and drink at the end.
What to take?
You need boots or a pair of reasonable walking shoes with 'grippy' soles as parts of the route can be muddy after rain. This walk is very exposed so take wind proof rain gear (even if it is sunny when you start). We would not recommend that you do this walk when the forecast is threatening strong winds, heavy rain or mist.
DIRECTIONS
1 Ask the driver to put you off at the T junction at the very top of Cragg vale by Blackstone Edge reservoir. Turn right alongside the reservoir for 500 metres until the Whitehouse pub comes into view. Turn right through the metal gate signposted Pennine Way. Follow the track ahead along the edge of Blackstone Edge reservoir.
2 Just after you leave the reservoir, the track follows a drain and
after 1km you should look out for a way-mark post on your left
and opposite a little stone bridge over the drain on your right. Turn
immediately left on a small path that runs alongside the drain. After
150 metres, you will reach a huge weathered rock next to an old
quarry – look carefully for a poem which is part of the Stanza Stone
project.
3 Carry on along on path http://healthsavy.com/product/kamagra/ which will bring on to a track at a junction, just to the left of an electric pylon.
4 Turn left on to the track and immediately right rejoining the Pennine Way. Keep on this track for 3km as it winds around, keeping alongside Light Hazzles and Warland Reservoirs and the drain beyond.
5 Shortly after Stoodley Pike comes into view, the track ends and the path becomes a line of flag stones. When these finish, just keep ahead on the very well defined main path, ignore paths going off and keep heading towards Stoodley Pike 4km ahead. Stoodley Pike was originally built to commemorate the Battle of Waterloo; it was destroyed by lightning on the outbreak of the Crimea War and later rebuilt.
6 Keep on the Pennine Way which bears right from the pike, after 500 metres you go through a gap stile in a wall, and after 20 metres, turn left through another wall. After 500 metres heading downhill on a good stony path, you reach a junction with a lane (way-marked Pennine Bridleway) where you turn right. Go through a gate, past Swillington Farm, and head down to the end of Kilnshaw Lane for 1½km.
7 Reaching a cross roads, you go straight ahead, after 100 metres, the track turns left and after another 400 metres it does a sharp right (ignore paths going off to the left). Keep straight ahead on this track, passing some great old buildings which are called Old Chamber. 50 metres after the last building, go down to the left on a tarmac road.
8 After 500 metres you come to the hamlet of Wood Top, keep on the
concrete track that runs through it and continue on down hill, bending left into the woods.
9 After 500 metres you come out at some houses and the back of Hebden
Bridge Railway Station. Go through the tunnel under the railway line and immediately left up the slope to the front of the station.