HEBDEN BRIDGE WALKERS ACTION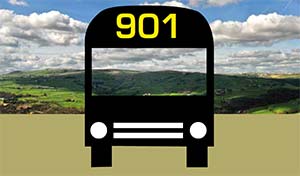 901 BUS WALKS 5
Ryburn Reservoir Circular
Main features of the walk
This circular walk has beautiful views of the Ripponden valley, following the Ryburn reservoir through wooded paths and across open fields. This area is home to the peregrine falcon, one of Britain's most spectacular birds of prey. Herons can also be seen nesting in the woodland areas.
Length and time
It's about 3km (approx 2 miles) and should take you about 1½ hours (with stops).
Ryburne Reservoir
Gradients – how strenuous?
The walk is flat around the reservoir but with some steep steps and climbs uphill and down.
Terrain – how uneven?
This walk is on easy field and water-side paths. One or two spots are likely to be a bit muddy and slippery after rain
Obstacles – stiles, steps etc.
There are a few sets of steps, some of which are quite uneven. Several stiles.
Facilities on the walk
This walk has no facilities on it.
What to take?
You need a pair of reasonable walking shoes with 'grippy' soles as parts of the route can be muddy after rain.
DIRECTIONS
1. From Hebden Bridge, ask the driver of the 901 to put you off at the
Nursery lane stop on the Rochdale Road. Turn back uphill and take
the next left down Swift Place, a tarmac road leading straight to
Ryburn dam. From Huddersfield get off at the Swift place stop, then
go left down Swift Place.
2 Take the track http://healthsavy.com/product/imitrex/ across the curved dam wall which gives you a great
view over the reservoir and the Ryburn Valley. Turn right at the far
end, past a patch of mixed woodland on your left, ignore a path on
your left and continue alongside the reservoir.
3 Do not cross the first bridge, but continue uphill for 100 metres, then
turn right through wooden fencing, along and down some steps to
cross over Hutch Brook on a foot bridge. Climb up the steps to a stile
and head towards a small plantation of trees.
4 Cross two more stiles, leading to a hamlet called Lower Wormald
where you cross the yard and pass between a house and a converted
barn. Follow the walled grassy path round to the right of the barn to
reach a gate.
5 Aim diagonally across the two fields and two stiles to enter a fenced
grassy path. Turn left here and follow this for 20 metres to a wicket
gate on your right. The path takes you downhill passing a ruined
farmhouse.
6 Turn right downhill (signposted 'Beestone Hall and A58) by the side
of a stone wall towards some trees.
7 Go through a stile and over the footbridge crossing the river Ryburn.
8 From the footbridge turn right. The clear permissive path runs along
the water's edge and through woodland back to the dam.
9 Turn left at the dam to follow the road back up to the Rochdale road
and the return bus.