HEBDEN BRIDGE WALKERS ACTION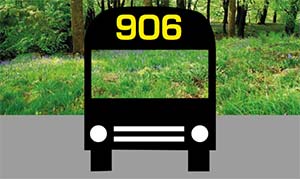 906 BUS WALKS 8
Midgehole to Lumb Falls and back
Main features of the walk
This walk gives you some fantastic panoramic views of Crimsworth Valley and an opportunity to visit Lumb Falls, a local beauty spot and Pecket monument
Length and time
It's about 6 km (just under 4 miles) and should take you about 2½ hours (plus stops)
Gradients – how strenuous
The outward walk is a moderate uphill climb, dropping down steeply to the stream and up the other side. The return is mainly flat or gentle down hill
Terrain – how uneven
Most of it is on good tracks with a few sections of footpath. Some parts of the walk may be very muddy, especially after rain.
Obstacles – stiles, steps etc.        
There is one stretch of steep up hill on a cobbled path and several stiles and gates on the return route
Facilities on the walk
A great seat at Lumb Falls to eat your lunch or have a snack, toilets (20p) and Blue Pig working men's club at Midgehole. There is limited mobile signal on this walk.
What to take
You need a pair of reasonable walking shoes; even if you set off in fine weather (and a stick may be useful on a couple of muddy bits), best to take a sandwich and drink.
If you want to walk back to Hebden Bridge from Midgehole, pick up a copy of 'Three way-marked walks from Hebden Bridge' from Hebden Bridge Visitors Centre. This has a description of the route.
Detailed directions for walk 8 Midgehole to Lumb Falls and back
From the 906 bus stop at Midgehole take the bridleway on your right just after the Welcome to Hardcastle Crags sign. At the top of this walled path, turn right on to the track (initially tarmac). From here you follow this track straight ahead (ignore turnings off) for 1½ km, it's a steady climb, through some woodland on to upland grazing.
You pass Laithe farm on your right and 150 metres before the next set of buildings, you take a bridleway bearing off to your right, sign-posted Lumb Bridge. At the stream, turn right past the ruined building called Sunny Bank, then follow the path down to Lumb Falls where you may want to linger a while.
After the bridge, the path doubles back, passing the Ted Hughes Six Young Men plaque, and then http://healthsavy.com/product/soma/ going up the steep cobbled packhorse path to the left.
 At the top, turn right along the tarmac Haworth old Road and follow it for about ¾km (there should be very little traffic as it is a dead end).
100 metres before the road joins the main road (you will see a bus stop in the distance), you take a way-marked tarmac lane bearing off to your right between two walls. The lane bends to the right and when you are opposite the house on your right, look for a path off to the left going through a small stone stile.
Go straight ahead, past a farm on your left and follow the wall to a gap stile by a house. Here you follow the well marked route around the bottom of the garden
Cross back up to follow the wall, going through two small gates into a garden. Cross the garden and exit by a small stile bringing you out on a track.
Turn right and go down towards the houses. Go to the left of the house on a way-marked bridleway and go through 2 wooden gates to the field. Turn left and follow the wall along, through metal gates and gap stiles until you come out on a track where you turn right down hill to a cluster of dwellings.
At the houses, the track turns left through a gateway and you immediately take a path on your right way-marked Monument and Midgehole. Follow this path downhill and keep heading for the monument where you may want to rest awhile and admire the view.
Head down to the bottom left hand corner of the field through a gap stile into National Trust's Pecket Well Clough. Follow the path straight ahead downwards, alongside the fence for about 100 metres (take care on the short steep section) and you join a track where you turn sharp right.
This track is an old packhorse route which you follow all the way back to Midgehole. When you arrive at the bottom by a house keep straight ahead and you will come out at the toilets at Midgehole.
If you want to walk back to Hebden Bridge, Hebden Bridge walkers Action have produced a guide to the route