HEBDEN BRIDGE WALKERS ACTION
GENTLE WALKING
CIRCULAR WALK FROM HEBDEN BRIDGE TO STUBBING WHARF PUB
This walk uses the canal towpath to get to a popular local watering hole returning by some back lanes in Hebden Bridge (it can be done in reverse).
Length and time
1¼ miles; 1 hour
Gradients – how strenuous
A couple of short inclines
Terrain – how uneven
Some on pavements and the towpath has a good even surface; can be pools of water after rain
Obstacles – stiles, steps etc.
One set of steps, crossing main road
Facilities
Public toilets and Tourist Information Centre at the start; Stubbing Wharf pub does food daily.
Points of interest
Black Pit, Hebden Bridge Alternative Technology Centre, lunch
---
DIRECTIONS
Start at the Memorial Gardens, next to the Picture House on the main road in Hebden Bridge. Cross over the canal bridge and go down the slope to your right. Go up the slight incline and turn right on to the bridge over the canal. Immediately turn left on to the canal tow path.
On your right you will see the rivers Calder and Hebden joining together – this is called Black Pit. If you look over the parapet, you will see that the river actually goes under the canal.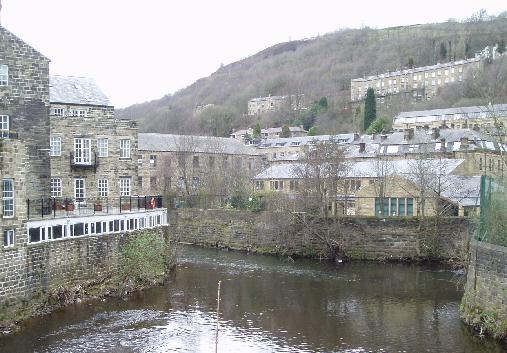 Black Pit
Continue on the tow path past some apartments that used to be a dye works and you come to the Hebden Bridge Alternative Technology Centre (ATC) and Green Shop. The Centre often has exhibitions and displays, and has free admission.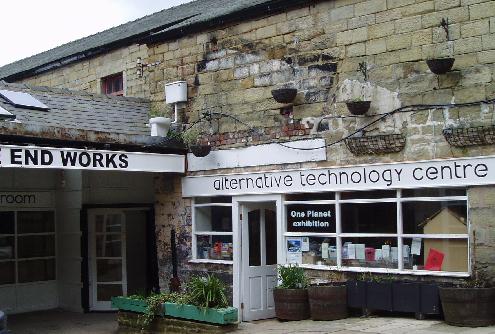 Hebden Bridge ATC

Keeping to the towpath, the next bridge (number 18) is called Hebble End. The building on your right just before the bridge used to be a pub called the Neptune which had a dancehall on the upper floor.
Carry on the towpath passing the locks at Stubbing Holme (there is a slight incline here). Continue under another bridge (number 19) until you reach the canal-side Stubbing Wharf pub (real ales, canal-side seating and good food). The entrance is down the slope off the tow path.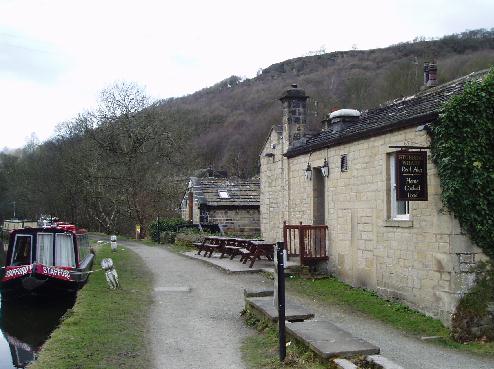 The Stubbing Wharf Hotel
The return
From the Stubbing Wharf, return towards the canal towpath, but take the narrow tarmac road which follows the canal towpath towards Hebden Bridge. You end up in a cul de sac called Stubbing Square.
Turn left down the small set of steps and immediately right on a narrow lane which follows the River Calder.
Here you will see Colden Water joining the River Calder and the remains of a weir for a nearby mill (long gone).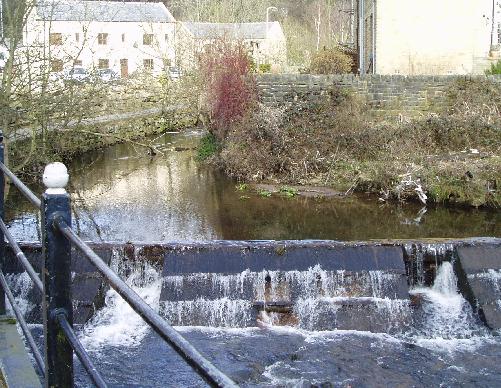 Colden Water
The lane quickly emerges on to a road near rows of terraced houses.
Continue on the road past a mill (note the amazing chimney) and scrap metal yard. When the road turns sharply left continue on the paved path ahead (through a gate), keeping the river to your left.
Cross the little bridge opposite the car park to emerge on to the main Hebden Bridge street near the Co-op supermarket.
Carry on down the main street (Market Street) and you will return to the memorial gardens.