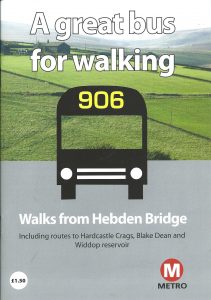 The 906 bus ran from Hebden Bridge railway station to Midgehole for Hardcastle Crags and Widdop for the Pennine Way.
The service sadly ceased in October 2018.
Although the  bus no longer runs, the walks are still wonderful and are still there!
The 906 walking booklet is now available free of charge from:
Hebden Bridge Visitor Centre
The Packhorse pub at Widdop
Gibson Mill in Hardcastle Crags
Alternatives to using the 906 bus
Many people use cars to walk in the area, but that can limit you to circular walks. There are local buy 25 mg viagra online taxi companies who will deliver or pick you up. For a group it can be quite economical.
The local taxi telephone numbers are:
Hebden Cars 01422 845555 (Hebden Bridge)
Valley Taxis 01422 844070 (Hebden Bridge)
Escort Taxis 01282 868788 (Colne)
Cavalier Taxis 01282 698659 (Nelson)
Mobile signals are intermittent in the area so if you are in a dead zone, the Packhorse pub or Gibson Mill in Hardcastle Crags will phone for a taxi for you.
The walks in the 906 booklet