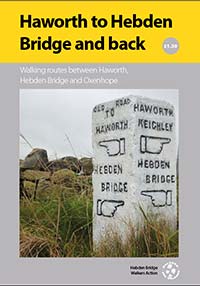 The route guide
Walks off the routes
compliled by Colin Speakman
Thanks to the project sponsors
Haworth and Hebden Bridge are the two most popular walking centres in the South
Pennines and are only about 7 miles apart as the crow flies. Between
them is a fine area of moors, fields, valleys and reservoirs which
offers a great opportunity for walking. Following requests from both
Visitor Centres, Hebden Bridge Walkers
Action is producing a guide to walking routes between the two towns.
The sixteen page route guide will include:
General information about the area between the two towns
A map of the routes
Detailed directions for walking the Pennine Way and Old
Road http://healthsavy.com/product/valtrex/ routes – both ways
A selection of walks off the route
Bus options from the two routes
The route guide, price £1.50 is now available
These will be published soon
The booklet of 500 bus Bronte link walks has been compiled by Colin
Speakman. They were commissioned by Transdev, the bus company who ran
the 500 bus, but never published. Thanks to Colin for allowing us to
publish an electronic copy.
Note: The bus is no longer the 500 but is now the B3 Bronte Bus.
We are extremely grateful to the following organisations for
funding this project:
Haworth, Cross Roads & Stanbury Town Council
Hebden Royd Town council
West Yorkshire Metro
Visit Bradford
Oxenhope Parish Council
Friends of Calderdale Countryside
Calderdale Council's tourism team