The original route of the Pennine Way missed out Hebden Bridge, but now you can walk the loop into the town and rejoin the Pennine Way a little further on.
The loop is not just for Pennine Way walkers, it also makes a great circular walk of a little over 6 miles with three get out points if you want to do it in sections.
The map opposite gives an idea of the route, but it would be better if you had a copy of our leaflet which has a larger scale map and detailed directions for walking it anti clockwise.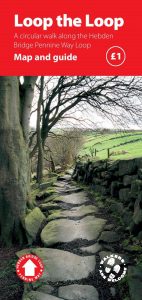 The leaflet also gives you information about refreshments on the walk and how to access the start of each section.
The leaflet is available from Hebden Bridge Library, Todmorden Information Centre and local outdoor and bookshops.
If you are walking the Pennine Way and just need the directions for the Loop itself – you can download them here:
A bit of History
We launched the Hebden Bridge loop of The Pennine Way on April 25th 2015 – the 50th anniversary of the Pennine Way. The Loop cost £2500 to complete the project. Many people supported the new route.
Feedback on the route
We want people walking the route to send us feedback (good and bad). We have a budget to maintain the route so we want to know about any improvements that need doing:
Drainage issues
Waymarking
vegetation cutting back
Problems with gates and stiles etc.
Send your feedback here. We will only pass on your email address to CROWS who will go and fix the problem.