HEBDEN BRIDGE WALKERS ACTION
The Stepping Out photographic project run by HB Walkers' Action in 2007 resulted in a fantastic photomosaic of over 800 photographs, the bulk of which are now on display on this website.. A news report is available on the HB community website. Full details of the project are on this website.
The Walkers are Welcome initiative in Hebden Bridge has won Hebden Bridge Walkers' Action the 2007 Award from the Action for Market Town for the best project demonstrating partnership and strategic development in Yorkshire, and we were pleased to welcome members of the Market Towns Initiative to Hebden Bridge in April 2008. Press coverage.
Calderdale MBC have recently produced their Rights of Way Improvement Plan. Our own Submission made in response to their original draft Plan is also available.
We highlighted in Spring 2007 the case of the much-loved paths in Eaves Wood, in the Colden valley near Hebden Bridge, which although walked by the public for generations were not legal rights of way. We are now battling with Calderdale MBC to include them on the definitive map. We have a leaflet about Eaves Wood now out.
We have worked with HB Local History Society to produce a new Town Trail booklet for Hebden Bridge. This is now out and available locally.
Another HB Walkers' Action initiative has been the new marketing leaflet, Get out for a walk in Hebden Bridge! 25,000 copies of the leaflet have been distributed in the Yorkshire and Lancashire areas.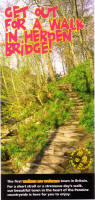 A full report of our Walkers' Day event on Sunday February 18th 2007 which marked the launch of Hebden Bridge as Britain's first Walkers are Welcometown remains available on this website.
Our thanks to...
We're delighted to acknowledge the support of Hebden Royd Town Council, who have endorsed the initiative as well as making a significant grant available towards the initial costs. We're also very pleased to be able to announce that Erringden Parish Council, Heptonstall Parish Council and Blackshaw Parish Council have also endorsed the initiative, and are making financial support available. The waymarking initiatives have been funded by Calderdale MBC, and we are very grateful for the support of Calderdale's officers in this work.
We have also had considerable support from the local business community. We particularly want to thank Mountain Wild, the locally run outdoor equipment shop in Crown Street, for their generous support in becoming our first Business Patron. We also acknowledge gratefully the support of our Key Business Sponsors, the Albert Inn, Innovation, the Fox and Goose Inn, Mytholm House B&B, and of our Business Sponsors Organic House/Rubyshoesday, Stubbing Wharf pub, The Bookcase, P Mamtora opticians, Riverdene House B&B, The Shoulder of Mutton pub. We also acknowledge donations from Higher Clough Foot Barn self-catering, Badger Fields Farm B&B.
The Rambers has made a generous donation towards the development of the Walkers are Welcomeinitiative. The Ramblers' West Riding area has also give financial support.
The Stepping Out photographic project, and a follow-up Stepping Out - All Yar Round! initiative, were funded from Awards for All (Big Lottery Fund).
Media reports on our work
Recent press coverage includes a lengthy news report in TGO (The Great Outdoors), in walk magazine, and widespread reporting in both the Halifax Courier and the Hebden Bridge Times. Articles available on-line include the following:
Halifax Courier, 19th June 2007, New Walking Group for Community
Halifax Courier, 19th February 2007, Town is first in UK to be officially 'walker friendly'
Halifax Courier, 12th January 2007, Hebden Bridge is hosting a walkers' festival
Halifax Courier, 12th October 2006, It's a walking first for Hebden
Halifax Courier, 13th September 2006, We'll keep a welcome in the dale
Hebden Bridge Times, 24th September 2007 New routes launched
Hebden Bridge Times, 3rd July 2007, More than 600 photographs of steps
Hebden Bridge Times, 28th June 2007 Walking status wins award
Hebden Bridge Times, 11 June 2007 Three new routes widen access
Hebden Bridge Times, 14th June 2007, Three new routes widen access
Hebden Bridge Times, 8th March 2007, We've more footpaths than anyone
Hebden Bridge Times, 22nd February 2007 Ramblers celebrate
Hebden Bridge Times, 11th January 2007, Festival celebrates walking milestone
Hebden Bridge Times, 12th October 2006, National First for Local Walks
Hebden Bridge Times, 24th August 2006, Help us make walkers welcome, says action group