HEBDEN BRIDGE WALKERS ACTION

News
We will try and keep this page up to date, but we need help from friends sending in the news. If you have any news you would like us to add on this page, send the text to HBWA

MS Yorkshire three peaks challenge

Shift.ms are organising a Yorkshire Three Peaks Challenge on Sunday the 26th of June and we are looking for walking groups join us. Many MS sufferers who volunteer with us are from Yorkshire and we thought this would be a wonderful way for others to get involved and show their support. This link shows you more information about the challenge:

Hebden Bridge Wadsworth Boundary Walk Sunday 12th June.

This years Boundary walk is in aid of Calder Valley Search and Rescue Team who are celebrating their 50th Birthday. The full walk is 21 miles through some spectacular countryside.

Teen Team Challenge
For this year only, there is a chance for teams of six young persons from school year 9 through to the age of 21 inclusive, to do a short walk (circa 8 miles) and to complete a number of challenges incorporating Search and Rescue skills including navigation, rope work and casualty handling (organised by Search and Rescue). Details of Teen Team Challenge are on their website.

Register for the full & short walk

Update for Jan/Feb 2016

The Valley Life walking columns which started in the Autumn have been well received with text and images coming in on time. there is a plan for up to the summer when we will review whether the column continues.

Hebden Bridge Visitor Centre was flooded out on Boxing day. Thanks to the pop up stall we put together for Todmorden Light Night we were able to provide the visitor centre with a pop up stall with a set of publications.

We are working on a conference to bring all the walking grouops together in May to see where it makes sense to cooperate.

We are currently working on a new three walks leaflet, all centred on wa;lking up to places in the Parish of Wadsworth.

Walkers are Welcome AGM Shropshire 8th November 2015

Thirty eight people representing 22 towns.

Many had a similar structure to Hebden Bridge Walkers Action, a group of committed volunteers, with an e mail list of interested people. Some had a representative of the local council on their committee.

There seemed to be limited involvement from the local council tourism department. However there are now 117 towns in the Walkers are Welcome network, with new towns joining all the time so the gathering might not be fully representative of the whole network.

Many groups have published local walking guides and introductions to their areas. A lot of publications are given away, funded wholly by the local council or, in some cases, funded by fund raising activities. Some groups have struggled to find outlets to sell publications. Some council tourist information centres no longer have the facility to take payments. Let's hope Hebden tourist information doesn't go that way.

Otley, Burley in Wharfedale and Baildon groups have combined together to develop a 28 mile 'Welcome Way' that goes through their towns and surrounding villages. They hope to have the publication ready by the Spring. Worth a thought for the Upper Calder Valley maybe.

Barry Southwell from the Ramblers Charitable Trust, an offshoot of Ramblers Holidays Worldwide explained to everyone that they had grants available to help walking groups such as ourselves.

Kate Ashbrook opened the short AGM in the afternoon with a talk about the importance of ensuring that all the paths in your area are on the definitive map or there is an application in to register them.

If there is an outstanding application that has not been processed they will not be extinguished in 2026, the deadline for all applications. She felt however that every area needed to start doing their research now. She also encouraged people to join the Ramblers path watch scheme.

The reduction in Rights of Way department staff was common throughout the country but she encouraged everyone to continue to register footpath problems with them, using court action if necessary. Wales is attempting to get around the problem by trying to designate large areas as open country. However the aim in this case seems to be to reduce the need to maintain the rights of way network. She felt this should be resisted because our footpaths are our heritage.

The WaW national organisation is now a Community Interest company, registered with the Charity commission. This status has taken a lot of committee time to achieve. Nevertheless it is a thriving organisation with some financial security although they are hoping to use the majority of the surplus funds to match fund for a part time administrator to relieve the burden on the volunteer committee.

Mo Ludlam, secretary HBWA

Launch of Haworth - Hebden Bridge walks route guide

The

booklet came out in May, but because of the May elections we have only just got round to doing a public launch.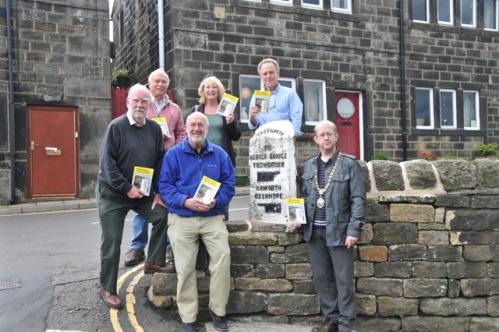 Councillors from Haworth, Oxenhope & Hebden Royd launch the route guide
Japanese visitors come to Hebden Bridge
Over the Bank holiday weekend two Japanese visitors came to meet members of Hebden Bridge Walkers action and members to Tod Walkers. Professor Yuko Shioji from the Dept of International Tourism, Hannan University came with Professor Tatsuya Suzuki, Vice Director, Satoyama Research centre Kyoto. Yuko is researching footpaths and social and cultural recreation around footpaths.

Suzuki is particularly interested in the law in relation to land access and footpaths. Earlier in the month four of them came to England, visiting the Walkers are Welcome towns of Ross on Wye, Chepstow and Winchcombe. Professors Keiji Maegawa and Yukari Kubo returned to spend a short time in London before they all flew home, but Yuko and Suzuki headed north because they were anxious to see the first Walkers are Welcome town and the first long distance footpath in England.

Suzy Hesselden, one of our members, met them and took them around areas of interest in Hebden. They stayed at Laurel End Guest house where Laura, the landlady gave them a great welcome. The following day they spent the morning in Todmorden with Tod walkers learning about the imminent establishment of Todmorden as a Walkers are Welcome town. They also looked at the Incredible Edible project sites. After lunch at Mo Ludlam's house with several HBWA members they were taken on to the moors to look at Access land and hear from Bruce Cutts, Natural England about the ongoing project, mapping access to England's coastline. They also learnt about the CROWS act 2000 (Countryside and Rights of Way Act) whereby the public were finally able to gain access to Open country in England.

On Monday, Ian Vickridge our Vice Chair and Bob Deacon took them on the Hebden Bridge Loop on the Pennine Way. They were both really pleased to see and experience part of the Pennine Way, the first long distance footpath in England, and talk about the development of the Loop path that opened in April 2015.
In Japan they are anxious to encourage the development of footpaths and walking routes to regenerate the rural economy. Most of the population of Japan now live in urban areas whilst the country areas decay. Both Yuko and Suzuki see their experiences in England relevant to their research in Japan and the development of more footpaths there. Lets hope their visit will encourage other Japanese visitors to come to Hebden. Lots seem to go to Howarth but rarely seem to venture over the hill. Our new booklet – Howarth to Hebden Bridge and Back might help too.

Mo Ludlam, September 2015
Mo Ludlam with Professor Yuko Shioji and Professor Tatsuya Suzuki
Launch of Pennine Horizons e-Trails March 28-9
Four new e-trails are due to be launched this weekend. They will be led walks, but with access to the downloads. For more details of the launch see the Pennine Horizons website
Wadsworth Parish Boundary Walk
Once again the Rotary Club of Hebden Bridge is organising the Wadsworth Parish Boundary Walk on Sunday 31st May. As usual, they will be raising money for local charities and good causes. Full details of their recent charitable donations and how to enter can be found on their website.
Todwalkers
A group in Todmorden has set up Todwalkers to promote walking in the town. They are currently working on a seies of walks from buses and later in the year will be considering promoting Todmorden as a Walkers are Welcome town. They have a website which is being populated at present.
Update on Pennine Way Loop
Work has started on the upgrades for the loop and half the waymarking has been completed. We will be distributing a leaflet about the launch on April 25th at our meeting on March 10th. The main promotion leaflet will be distributed to accommodation providers up and down the Pennine Way by the end of March. There is already a good presence on the web. more details on the Pennine Way page.
16 UP THE CREEK - Please sponsor
From 23rd – 27th May 16 people are canoeing down the river Thames over 5 days to raise money in aid of Calder Valley Search and Rescue team.
The challenge is equivalent to a marathon a day for 5 days.

Please sponsor us. https://mydonate.bt.com/fundraisers/16upthecreek
Details at www.gullsedge.co.uk
Two Overgate Hospice walking events
Ogden Stomp
Raise money for the Hospice by taking part in our 3 mile walk around Ogden Waters. Sunday 22nd March, meeting at the Ogden classroom. Register before the day for a reduce price. Adults £3.50 under 16's £1.50. Also on the same day is the Overgate Hospice Teddy Toddle, a family walk around the reservoir with your favorite teddy bear.
Teddy Toddle
A family walk in aid of Overgate Hospice. Face painters, teddy bear quiz, refreshments and Baby Ballet bear Twinkle. Join us on Sunday 22th March any time 10:30am - 12:30pm for a stroll around Ogden Reservoir with your favorite teddy bear. Adults £3.50 and under 16's £1.50 before the day registration. Also on the same day is our 3 mile Ogden stomp. Meet at the Ogden classroom.
Contact Lauren Barber, 01422 387121, lauren.barber@overgatehospice.nhs.uk,
Website teddytoddle.overgatehospice.org.uk
Launch of Hebden Bridge Loop on the Pennine Way
Hebden Bridge Walkers Action with Hebden Bridge Hostel plan to bring the Pennine Way to Hebden Bridge and Heptonstall on Aprl 25th its 50th anniversary. More details about what's involved and progress are on our Pennine Way page.
If you would like to sponsor a waymark you can just text CROW42£5 to 70070 (no additional cost)
2015 is already looking like a busy year
We have three initiatives on the way
Haworth - Hebden Bridge walking leaflet due to be published in March
Hebden Bridge loop on the Pennine way - launch due on April 25th - see Pennine Way page for details
Todmorden bus walks and Walkers are welcome - working with a group of walkers in Todmorden
Details to follow
Earlier news